It's been a while since my last ring engraving, but here is the next one. This time it's a gold wedding ring made by Ljudmila Funika-Müür.
Ring itself was only 4mm wide, so I couldn't engrave anything too complicated there. It was also concave D-shaped, so it would've been very difficult, or impossible to do a precise pattern transfer to it. I went old school and drew directly with pencil to the metal. It was repeating pattern and didn't cause too many problems. The white background color is just watercolor, so pencil would stick better and be more visible.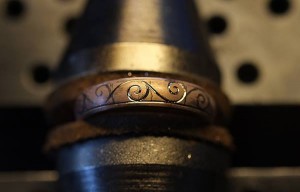 Here's the final result with background removed and blackened. This photo is much bigger than real life, so mistakes are easily spotted. It actually looks very good.