My bulino practice plate has had some progress, so now it is about 50% completed. Unfortunately at this time I don't have time to work on it for quite some time. Few engraving, knife and sword projects need my attention. But, here's what I have up to now.
I definitely learned a lot from this practice and next one will be hopefully better. It is was quite a surprise for me how small the dots have to be to create nice smooth effect. Basically just mere teeny-tiny scratches on the surface and even then it's rather easy to overdo it. That engraving is 5cm high, nose is 1mm high and 0.5mm wide. Just to give you a sense of scale…
In the mean time I engraved one more Zippo for a customer. Design was given to me, so my job was just to engrave it.
Quite nice design, isn't it?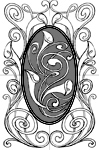 I'm also preparing for next Zippo engraving project. Design for that engraving is about 90% completed, just need to touch it up a little and it's ready to do. As you can see I'm trying out yet another style. It's called Liberty (some engravers call it spaghetti scroll, because of all those long, skinny and intervening… spaghettis). So, if you're interested in getting a Zippo with that kind of engraving, now is the time to let me know.